NEWMAN LIVESTREAM
Upcoming Livestream Events
Palm Sunday – Sun, Apr 5 11:30 AM English; 12:30 PM Spanish
Spy Wednesday – Wed, Apr 8 12:15 PM
Holy Thursday – Thu, Apr 9 7 PM
Good Friday – Fri, Apr 10 12 PM
Easter Vigil – Sat, Apr 11 7 PM
Easter – Sun, Apr 12 11:30 AM English; 12:30 PM Spanish
Strategies to Prevent Flu/Cold Season & Information related to the Coronavirus
The Flu Season is in front of us and we believe that personal responsibility and awareness are the best preventive measures to maintaining the spread of flu-related viruses at the workplace.
This message is also intended to proactively share preventive actions with respect to the recent nationwide concerns related to the Coronavirus, in accordance with the Center for Disease Control (CDC).
Diocese of Phoenix Mass Cancellations and Other Restrictions
Effective immediately and until further notice, Bishop Olmsted is suspending all weekday and Sunday Masses, and asking for all parish- and diocesan-based public gatherings to be cancelled.
2020 Season of Lent
An appeal from Fr. Aaron Agorsor
Fr. Aaron Agorsor appeals for a $7,000.00 dollar budget for renovating the Tsiame Roman Catholic School in Ghana.
Give your parish Word on Fire ENGAGE for 2020!
Your priest and parish leaders can now use Word on Fire ENGAGE to go beyond simple email announcements and truly evangelize and catechize parishioners with engaging and transformative videos and films from Bishop Barron.
Jesus' Ministry of Liberation: A Companion after the Year of Mercy
by Fr. Aaron Agorsor
BOOK LAUNCH IS ON APRIL 18TH
This book offers hope both to those in ministry and to those being ministered to. In the image depicting Jesus' encounter with the Blind Man Bartimaeus, we find a story set within the wider context of Jesus' final journey from Jericho to Jerusalem where death awaited him.
Perhaps, that was the moment in which he should have been preoccupied with misery and anguish given that his death was imminent. Bartimaeus was too insignificant to be noticed by anyone with such a greater commitment and pre-occupation like Jesus had. It may seem absurd at first to think that Jesus would waste his time on someone like Bartimaeus when death awaited him, but it is in this bizarre situation that Jesus bore authentic witness to mercy.
Jesus' encounter with the blind man Bartimaeus is exactly God's vision for humankind, namely, that ministers of God should not forget the vulnerable in the exercise of ministry because it is one of the greatest opportunities of witnessing to God's love.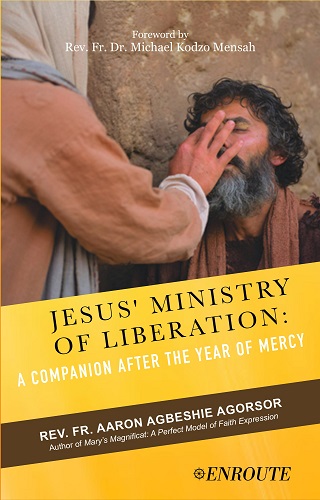 Registration, Sacramental & other Forms